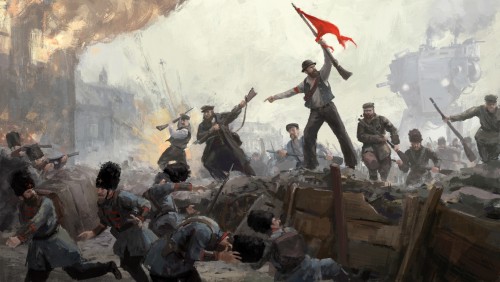 KAG et Koch Media (entreprise mère de Deep Silver, l'éditeur du jeu) annonce :
Révolution Rusviet

: Le 17 décembre 2020 sera publié 4 nouvelles missions (solo ou coop) sur 4 nouvelles cartes pour explorer le mystérieux Raspoutine. Ce contenu sera gratuit pour les personnes ayant soutenu le projet sur Kickstarter (à hauteur de 45$ et +) et celles ayant acheté la version Deluxe du jeu (sur EGS, GoG ou Steam). Pour les autres, ce DLC sera vendu 3,99€ ;

Démo

: Il y aura une démo gratuite du jeu sur GoG et Steam du 25 novembre au 1 décembre. 

Tout le contenu du jeu est accessible (Campagne solo, cartes de défis, escarmouche, multijoueur)

;

Tournoi : Nouveau tournoi 1v1 ESL d'une cagnotte de 5000€. Plus d'infos : https://play.eslgaming.com/ironharvest/global/challenger/fall-tournament

;
Citation

Iron Harvest 1920+ – 21 Million Mechs – This calls for a Revolution!

New Game Mode, Free Public Demo, ESL Fall Tournament, Rusviet Revolution Campaign And Epic Release

Planegg / Bremen, Germany – November 20 , 2020 –  three months after the successful release of the critically acclaimed RTS Iron Harvest, the developers at KING Art Games are eager to recap and announce a wide array of new additions to the world of 1920+. Today's announcement and outlook introduces the upcoming story content "Rusviet Revolution", a new game mode called "Drop Zone" as well as a free demo and the game's availability on the Epic Game Store as off now.
 
The alternate history and it's diesel punk inspired world have seen over 21.000.000  mechs ravaging on the battlefield, capturing over 2.000.000 resource buildings. Out of the three factions, Saxony sees the highest pick rate, with Polania being a close second and Rusviet coming in as number 3. When it comes to Heroes, Polanian girl Anna and her paw swinging companion Wojtek seem to be the most favourable out of  all heroes, taking the number one spot.
 
Keeping the diesel engines in check the team has released six new maps  since the game's launch on Sept 1st 2020 launch on PC. Ranging from a once bustling Harbor City to the no man's land of the Great Wastes. New challenges, each unique in setting and strategic options, have been added as part of the first season alongside the highly anticipated ranked mode which sees players climbing the ranks of Iron Harvest.
As a treat for all lore-lovers a Codex was added to the game, compiling all the details and lore to display the deep and rich background of Iron Harvest rooted in the universe of 1920+. Additional cosmetical items, skins and other collectibles have been released during October and will be added to the game regularly in the future.
 
Upcoming Updates:
Is it a plane? Is it a bird? It is a … crate? New Game Mode "Drop Zone" coming to the world of 1920+.
Drop Zone:
In "Drop Zone" players collect stockpiles that are airdropped across the map. The first player to collect enough Victory Points wins!
Multiple stockpiles can drop simultaneously and take time to collect. Protecting dropped stockpiles while securing future drop zones are the key to victory.
Drop Zone will be available on all existing skirmish maps and can be played in Skirmish, Ranked, Quick Match, and custom matches.
The team is in close touch with the community and are constantly working on weekly updates to keep the battlefield exciting. For more information on the upcoming updates you can check out the November Roadmap:

Rusviet Revolution:
Over 100 years ago the real Russian revolution came to a halt when the red forces one the final battles at the Krim. Though the alternate history of 1920+ never has seen this kind of revolution till now. December 17th marks the day the Rusviet people will raise against the Tsar. Players will follow an additional story line over the course of four new singleplayer maps, shedding some light on the mysterious Rasputin. These Maps will be free for all Kickstarter backers and Iron Harvest Digital Deluxe owners. Everyone else can get the "Rusviet Revolution" for 3,99 € through Steam, GOG or Epic. To celebrate the Rusviet Revolution, the team created a new Artwork:

Free Public Demo:
Starting November 25th ending December 1st,  all interested players can join the battlefield via a free public demo on Steam, GOG and Epic. Join Anna Kos and her trustworthy bear Wojtek on their journey across Europe in the war that followed the Great War in this alternate history of 1920.  As off now Iron Harvest 1920+ is available for purchase on the Epic Game Store as well.
Demo Features:

All interested players will be able to take a sneak peek on the thrilling campaign missions.
Skirmish and Challenge Maps: Players can take on the AI alone or in co-op with a friend.
Competitive Multiplayer: Players can challenge each other in thrilling toe to toe battles on either 1v1, 2v2 or even one 3v3 map!

 
ESL Fall Tournament:
Once again KING Art Games and ESL have teamed up to bring competitive RTS gamers an Iron Harvest tournament. The Iron Harvest Fall Tournament will let players compete for prizes totalling up to 5000€!
 
Fall Tournament schedule:
 

Qualifier 1: Saturday November 28, 2020
Qualifier 2: Sunday November 29, 2020
Qualifier 3: Saturday December 5, 2020
Qualifier 4: Saturday December 12, 2020
Finals: Saturday December 19, 2020

All players (including the free public demo users) will be eligible to participate in the Iron Harvest Fall Tournament and will receive an in game skin and an exclusive title.

About King Art Games

KING Art is an independent game developer with years of experience in creating high-quality games for all major platforms. More than 40 employees across several teams are located at the offices in Bremen, Germany and work with about as many freelancers around the globe. Founded in 2000, KING Art has since released more than 50 titles in different genres, with a focus on narrative games, RPGs and strategy games. The company and its games have received multiple prestigious awards, including Best Strategy Game and Best Development Studio.

KING Art is a licensed developer for Microsoft, Sony and Nintendo plattforms and member of Verband der deutschen Games-Branche (GAME) and bremen digitalmedia.

Über Deep Silver

Deep Silver

Deep Silver develops and distributes interactive games for all platforms. The Deep Silver label means to captivate all gamers who have a passion for thrilling gameplay in exciting game worlds. Deep Silver works with its partners to achieve a maximum of success while maintaining the highest possible quality, always focusing on what the customer desires.

Deep Silver has published more than 200 games since 2003, including own brands like the critically acclaimed zombie action franchise Dead Island, action role-playing games from the Sacred world, successful adventures such as the Secret Files series and the role-playing realms of Risen. Upcoming highlights from Deep Silver include the next title in the Saints Row franchise, Sacred 3, Dead Island Riptide and Metro Last Light. Deep Silver also owns the development studio Volition based in Champaign, IL, USA. For more information please visit

www.deepsilver.comKoch Media

Koch Media is a leading producer and distributor of digital entertainment products (software, games and films). The company's own publishing activities, marketing and distribution extend throughout Europe and the USA. The Koch Media group has more than 18 years of experience in the digital media distribution business, and has risen to become the number one distributor in Europe. It has also formed strategic alliances with numerous games and software publishers: Bethesda, Capcom, Kaspersky Labs, NC SOFT, Sega, Square Enix and Tecmo-Koei, etc. in various European countries. With Headquarters in Planegg near Munich/Germany, Koch Media owns branches in Germany, England, France, Austria, Switzerland, Italy, Spain, the Nordic regions, Benelux and the USA.

www.kochmedia.com  

About Koch Media

The Koch Media Group is a global developer, publisher and distributor of video games, VR games, gaming hardware and merchandise.
 
The group's publishing activities, marketing and distribution extend throughout Europe, America, Australia and Asia. Koch Media has more than 25 years of experience in the digital media business and has risen to become a leading global publishing partner. The Koch Media Group runs a multi-label strategy with fully owned publishing units such as Deep Silver, Milestone, Vertigo Games and Ravenscourt which publish games for consoles, PC and VR platforms across all physical and digital channels.
 
Additionally, as global publishing partner Koch Media has formed long-term multi-national publishing collaborations with numerous game publishers including Bethesda, Capcom, Codemasters, Konami, Koei Tecmo, Sega, Square Enix, Warner Bros and many others. With its parent company in Höfen, Austria, and the Publishing HQ in Munich, Germany, Koch Media owns local publishing companies in Germany, UK, France, Spain, Italy, Sweden, the Netherlands, Austria, Switzerland, Poland, Australia, the United States as well as Japan and Hong Kong.
 
The Koch Media Group owns seven game development studios: Deep Silver Volition (Champaign, IL / USA), Deep Silver Dambuster Studios (Nottingham / UK), Deep Silver Fishlabs (Hamburg / Germany), Warhorse Studios (Prague / Czech Republic), Milestone (Milan / Italy), Voxler (Paris / France) and Vertigo Games (Rotterdam /The Netherlands). Additionally, the Koch Media Group collaborates with numerous independent development studios around the world.  
 
Part of the Koch Media Group is also Koch Films, a European independent film distributor with business primarily in Germany, Switzerland, Austria and Italy as a cinema, TV, online and Home Entertainment distributor. The Koch Media Group also owns Gaya Entertainment, a leading video game merchandise company in Munich, Germany, and the Quality Assurance Facility in Olomouc, Czech Republic.
 
Koch Media is an Embracer Group company.
Sources :